Kat Graham Enjoys a Well Deserved Break at The Springs Resort and Spa
The beautiful Springs Resort and Spa, Arenal, Costa Rica. Kat Graham at La Fortuna waterfalls.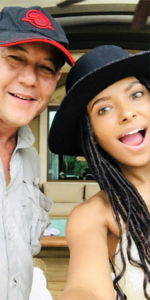 The stunning  Springs Resort and Spa in Arenal, Costa Rica received Kat Graham this June for an amazingly beautiful and action packed break from filming. Trips 4 Fundraising Manager of Costa Rica, Giovanni enjoyed touring her around to La Fortuna waterfalls, zip lining, nature hike to see the sloths, local restaurants and shopping.
The Springs Resort and Spa, winner of the TripAdvisor's Traveler's Choice Award for 2018, is a 165 acre luxury boutique five star hotel in La Fortuna, Arenal, Costa Rica with an incredible view of the Arenal Volcano and an amazingly beautiful 14,000 square foot full service Spa, hot springs, set along the Arenal River and a wildlife rescue preserve. A breathtaking place for bird watching in Arenal along with hiking, river fishing, kayaking and wildlife tours at Club Rio Outdoor Center located 1.5 kilometers directly below the resort along the Arenal River.
The gorgeous and talented Kat Graham is most known for Bonnie on "Vampire Diaries", Jada Pinkett Smith in "All Eyez on Me" and "Cut Throat City" with Terrance Howard and Wesley Snipes. But look for her coming out in hot upcoming films: "Decoy" with Andy Garcia, "Christmas Calendar" with Quincy Jones, "Poison Rose" with John Travolta and Brendan Fraser. She also is passionate about producing and singing her own music and has a recent album out called "Love Music Funk Magic" in which the late Prince collaborated on. Last year she performed at Milan Fashion Week. Follow her on Instagram!
Photo: Kat and Giovanni, Trips 4 Fundraising Manager of Costa Rica